Cambridge QT 300 Three Zone Sound Masking Controller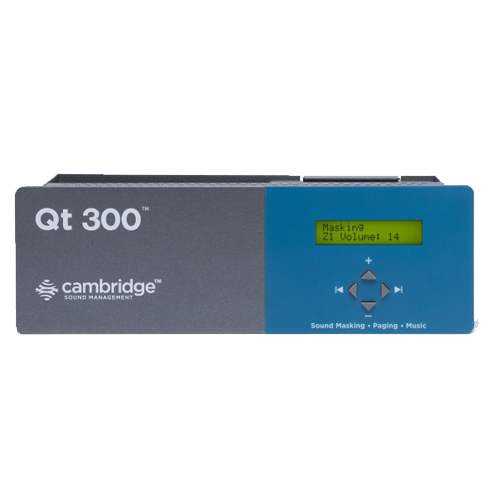 Description
Customer Reviews (2)
Cambridge Qt 300 is a three-zone sound masking generator for protecting speech privacy and reducing noise distractions in Medium Spaces - Covers Approximately 36,000 Square Feet
The Qt 300 control module is a sound masking generator, controller and amplifier, with two auxiliary audio inputs to allow for distribution of audio from a paging controller and/or (background) music player.
The QT 300 is ideal for three-zone spaces of up to 36,000 square feet.
The QT 300 uses sound masking set to a frequency range of human speech and helps to cancel voices out just enough so you can't hear them.
The masking level and Aux audio levels can be adjusted from the unit's front panel and can also set up error reporting and establish time-dependent masking levels via their PC, Mac or tablet device using the intuitive QT Monitoring and Control Software. 
Powered by direct-field Quiet Technology developed to reduce acoustic interference.
Delivers uniform sound masking by projecting from not through the ceiling.
Reduces the need for expensive construction or sound blocking materials.
Each emitter can be installed in less than 15 minutes and in any ceiling type.
Easy to retrofit into existing workspaces.
See more sound masking products from Cambridge Sound Management.
2 Reviews for Cambridge QT 300 Three Zone Sound Masking Controller
Paging too! - Tuesday, March 19, 2019

As a secondary feature, this system will allow Paging as well?

One of the Best - Thursday, March 14, 2019

One of the Best Sound Masking controllers
Please sign in or create an account to submit a review for this product.