Crestron hd-scaler-vga-e Scaler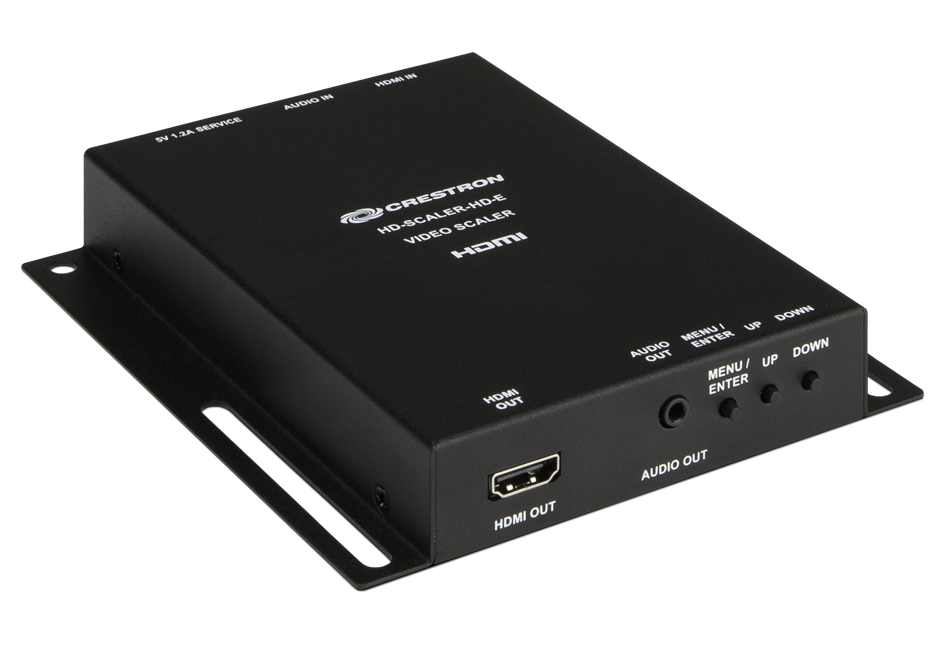 Description
Customer Reviews (1)
The HD-SCALER-VGA-E is a simple, cost-effective video scaler designed to enable an HD, SD, or computer display device to handle analog VGA, RGB, and component video signals with input resolutions up to Full HD 1080p. Its low-profile, surface-mountable design and set-and-forget simplicity allow the HD-SCALER-VGA-E to be installed discreetly in the back of an equipment rack, behind a flat panel display, or above a ceiling projector.
The HD-SCALER-VGA-E handles standard and high-definition video sources with resolutions up to Full HD 1080p60 progressive and 1080i interlaced, as well as computer sources up to WUXGA 1920x1200. Whatever the source, the HD-SCALER-VGA-E is capable of scaling it up or down, deinterlacing it, reducing noise artifacts, and adjusting its aspect ratio to match the native resolution of your video display or computer monitor. A wide selection of display resolutions up to 1920x1200 can be supported, with auto-calibration ensuring a quick and easy setup and hands-off operation.
The HD-SCALER-VGA-E provides a single VGA type input and is compatible with RGB and component video sources.[3]
Audio Embedding
An audio input is provided on the HD-SCALER-VGA-E to accommodate the stereo signal from a line-level audio source, or the headphone output from a laptop or mobile device. The analog signal is converted to digital and routed to the scaler's HDMI output along with the video signal. An analog audio output is also included, allowing distribution of the audio signal to the display device, or to a sound bar, amplified speakers, or a separate sound system. Built-in delay processing allows the audio signal to be delayed up to 150 ms for lip-sync alignment.
1 Reviews for Crestron hd-scaler-vga-e Scaler
Must have in your tool box - Monday, April 8, 2019

This is a must have to update older systems to HDMI
Please sign in or create an account to submit a review for this product.