Crestron UC-SB1 Video Conference Smart Sound Bar with Camera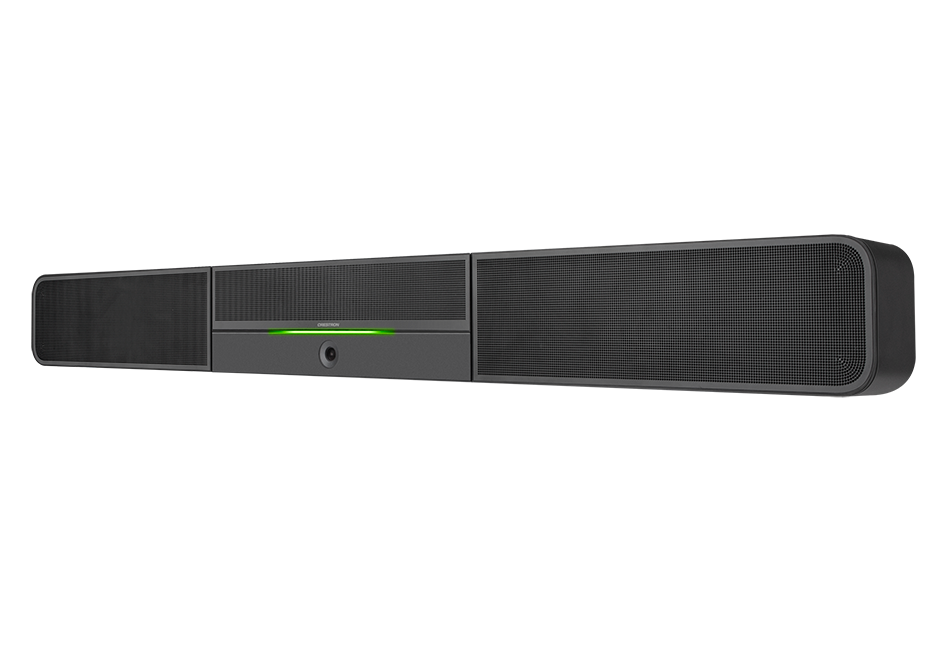 Description
Customer Reviews (1)
Crestron Smart Soundbar features a high-performance conferencing speakerphone in one stunning front-of-room device. Installs cleanly beneath the room display, and interfaces with any computer via USB. Includes USB camera.
High-powered stereo speakers, adaptive beamforming microphone, and advanced digital signal processing deliver exceptional full-duplex speakerphone performance with echo-free voice clarity. Includes a high-end conferencing camera with HD 1080p video resolution, ultra-wide 150° diagonal field of view, and Genius Framing digital autozoom. 
See also model UC-SB1 for a similar solution with no built-in camera. The UC-SB1 allows for the use of any USB camera mounted separately from the smart sound bar.
USB Speakerphone & Camera
The UC-SB1-CAM comprises a high-performance AEC-enabled speakerphone and camera that are compliant with Microsoft Teams® and Skype® for Business specifications. 
Note: For Zoom Rooms™ conferencing applications, the UC-SB1-CAM can pair with a Crestron TSW-760 or TSW-1060 series touch screen along with a computer running Zoom Rooms software.
The UC-SB1-CAM behaves like any USB Audio or USB Video class device, enabling use as a speaker, microphone, and camera for all types of multimedia applications running on a computer. 
Superb Sound Quality
Its integrated 180° far-field microphone array faithfully captures voices throughout the room using adaptive beamforming technology to focus in on whoever is speaking. Its high-powered, two-way stereo speakers produce full, rich and real sounding audio for both voice and program material. High-performance AEC technology achieves transparent full-duplex performance free of distracting echo or noise. 
Intelligent HD Camera
The integrated Huddly IQ™ camera features an ultra wide-angle 150° diagonal field of view to capture an entire conference room in Full HD 1080p video resolution. High precision aspherical optics, 12 MP CMOS sensor, and advanced video processing ensure an immersive, crystal clear video image free from light or noise artifacts or optical aberrations.
Enhanced Functionality
The UC-SB1-CAM smart sound bar integrates seamlessly with a wide variety of computer-based UC platforms. Plug-and-play USB connectivity enables control of the soundbar through the computer without requiring any extra software, remotes, or control system.  On the front of the sound bar, operational status is displayed by a stylish bar of light that expands outward as the volume is increased and changes colors to indicate connection and mute status.
Analog Audio Input & Output
Additional audio connectivity is provided through unbalanced stereo analog input and output jacks on the rear panel. The input accommodates any line-level audio source, which simply feeds to the internal amplifier and speakers with no volume control or other signal processing. The output is provided to feed an assistive listening system and carries the same audio signal as the soundbar speakers.
Easy Installation
Install using the integral hinged mounting bracket, which attaches to the wall and allows the soundbar to be tipped forward for full access to the rear panel connections. Once installed and connected, the soundbar is held upright magnetically for normal operation. The bracket allows for attachment to any wall surface using two screws. 
1 Reviews for Crestron UC-SB1 Video Conference Smart Sound Bar with Camera
Wow What a cool Design - Friday, April 5, 2019

Money Well Spent! This works great
Please sign in or create an account to submit a review for this product.