AtlasIED M1000-USA SOUND MASKING SPEAKER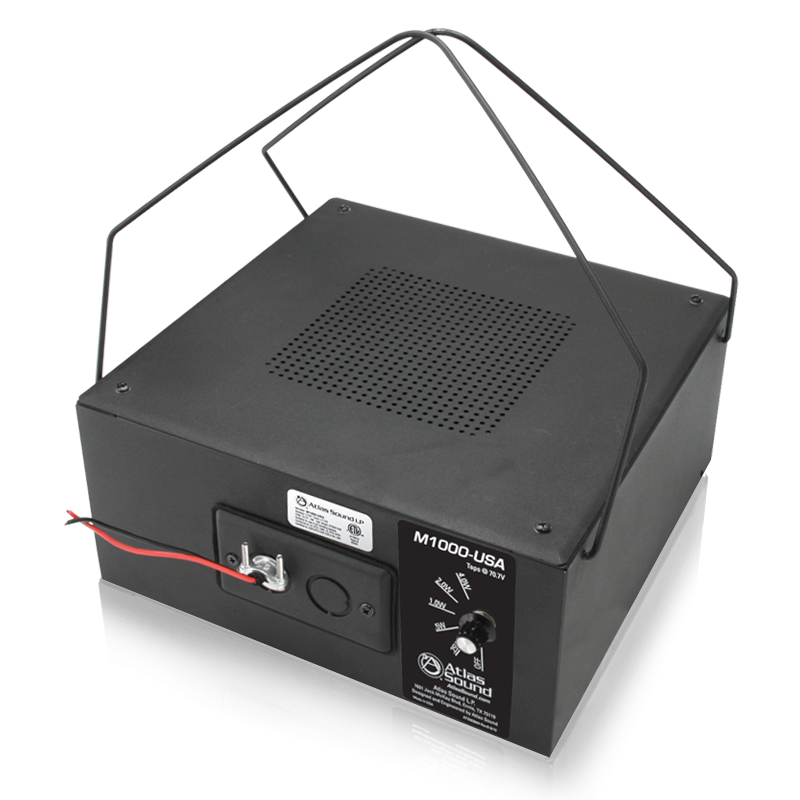 Description
Customer Reviews (1)
The AtlasIED M1000-USA sound masking speaker assembly is designed to accurately reproduce the needed spectrum of masking sound into the plenum space. The innovative 734 in3 square enclosure ensures ample low-frequency response. A specially designed 8" dual cone speaker is included in the package. A high-efficiency 70.7V internal transformer is coupled to an external selector switch for easy system tuning. For more precise adjustments, an off switch and a wide selection of wattage taps ranging from .25 watts to 4 watts are provided.
The exclusive AtlasIED EZ hang brackets simplify installation. This innovative suspension system utilizes two collapsible galvanized hangers configured to allow quick upward, downward, or horizontal firing installation. The hangers are factory-installed on the unit and fold flat for shipping. The Atlas M1000-USA is proudly assembled in our Ennis, TX production facility and meets Buy American Act standards.
Installation is made easy via the optional 78" (2m) suspension chain system, part MCHAIN72, that allows quick mounting and height adjustment of the M1000-USA. An integral wire strain relief strategically located on the top of the enclosure allows for secure speaker cable termination.
Additionally, to meet most local code requirement, the M1000-USA includes an innovative cover containing both knockouts and strain relief. This system will allow the use of rigid or flexible conduit (if required) and easily accommodates "through" connections on the removable plate.
Click here to see our full line of sound masking generators.
1 Reviews for AtlasIED M1000-USA SOUND MASKING SPEAKER
One of the Best Speakers for Sound Masklng - Sunday, March 17, 2019

Great Job! Thanks for making this Easy!
Please sign in or create an account to submit a review for this product.